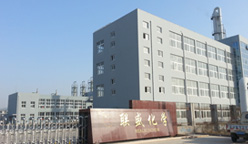 Establishment: February,1987
Reorganization: 1993 and became Zhejiang Realsun Chemical Industry Co., Ltd. in 1999.
Capital: CNY 30 million
Business activities:
R&D and manufacturing of intermediates of pharmaceutical intermediates and pesticide intermediates; manufacturing, trade and recovery of electronic chemicals; Outsourcing taking technology and materials as investments, custom-synthesis, CRO, CMO; the transferring of manufacturing methods of engineering chemicals and counter purchase of products.
Supporting Banks:Bank of China, Commercial Bank of Taizhou
Plant areas: Jiaojiang plant:15380M2 ,Lepin plant:23500M2,Linhai plant:58000M2.
Electric power:
Industry supply power:2500KVA self-support power: 800KVA
Water: industrial water, tap water.
Waste water treatment: A biologic treatment equipment enables300MT of liquid effluent to be treated per day.

Values:
Be honest, regulation-abiding, law-abiding and frank; respecting each other, focused on customers' needs, all enterprises in this industry are the worthy opponents of our company.
Customer service:
Provide value-added and reliable service, work together to build an efficient, safe and modern sales channel and network of chemicals.
Development direction:
The realization of smart chemical industry: making huge reforming on production mode, product structure, service pattern and public liability. Upgrading our development mode into environment-friendly way, recyclable way, and sustainable way. We aim to be a new chemical company with "Three-ZERO"---Zero Waste, Zero Pollution and Zero Ecological Dynamic.
Goals:
Making the best team in this industry
Creating more profits and benefits
Helping customers getting more successes
Ensuring sustainable development